Patch 1.1.2 - Discord Rich Presence
---
Patch 1.1.2 brings a handful of new niche features to the game, but none of them impacting your gameplay experience itself.

-Discord Rich Presence has been added to The Last Thing She Saw, meaning Discord should automatically pick up on the game and display some relevant game info. (See below)
Note that Rich Presence will not work on the browser version! (Not yet, anyway.)
-From this point onward, the game tracks how many times you have died. This means that, if I ever want to implement death-related achievements (die x times, complete the game in less than x deaths, ...), they'll already be tracked by the time I get around to them.
-Fixed a typo in Stage 2.
About the Rich Presence.
This is the first time I'm trying out Rich Presence, so my apologies if not everything runs smoothly, or not everything displays the info you want it to display.
Currently, it looks like this: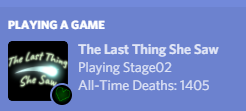 It displays the game title and cover image, your all-time death count (which starts from a clean 0 from the moment this goes live) and the stage you're currently playing. Alongside that, it also shows whether or not you've collected the heart in that stage.
I might look into some way of choosing which information is shown exactly (i.e. all-time deaths vs. session-bound deaths vs. stage-bound deaths), and maybe I'll throw in some secrets for those with a keen eye.
No promises though!
Files
The Last Thing She Saw
16 MB
Mar 03, 2019
Get The Last Thing She Saw